Hi, I don't if this is against the rules of this community or not but I just want to tell you how to register on Pangya TH server.
Go to the Pangya TH homepage

Once you click register, something will pop-up( I forgot to take a screenshot of it) click ok

Back to the homepage, click the button right next the the register button, 'Login'. You'll be redirecting to this page type in your ID and password on the left side

*You need to type the name(using Thai), national ID card no. and phone numbers as well. I suggested that you use Thai ID generators to generate it. For phone no., you can just type random phone numbers in, It should be ok.(Thai mobile phone numbers started with 08 or 09 and then followed by another 8 digit)
And when logging in to the game, after selecting the server, you'll see this

Here's the explanation of each icon
Notice
Multiplayer Mode
Single Player Mode
Shop
My Room
Select Character
Refill Cookies
Mailbox
Select Server
Menu
Close the game
And inside the no.10 Menu, here's what inside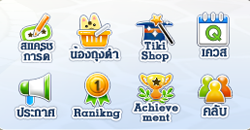 Here's the description of each icons, from left to right, top to bottom
Scratch Card
Bongdari/Memorial Shop
Tiki Shop
Quest
Notice
Ranking
Achievement
Club
Please noted that the server did not have and won't have anymore updates. They still have events, but no items update since Pangya KR closed down, so no update or anything like that. But You can find almost all of the items, wings, clubs, sets in a memorial shop. And there's no language changing option in game as well.
The numbers of people online, when I check it was 1 PM, weekdays, in Thailand has about ~500 players online and I'm quite sure that during peak times it'll reach almost/exceed 1000 players.
For anyone who has problem with how to register or problems with the game, feel free to contact me. I'll help as much as I can. I just found out recently that Pangya TH official server is still operating. I'm quite surprised to be honest. I thought they're long gone. lol.