Probably nobody remembers this. Pangya Mobile wasn't the first version of the game for phones: there was a earlier attempt called (alternatively) "Mobile Pangya 2D" or "Pangya Mobile 2D". Developed for 2005's era phones (most likely in Java), it was a 2D/pseudo 3D game with two different modes: Vs mode (similar to Family mode) and HIO mode. It was probably a single player game only, but it apparently included everything from the PC game: items, characters, aztecs, equipment and special shots.




To further motivate people to play it, it had an interesting option to transfer all the earned pang from the mobile to the PC version:
https://web.archive.org/web/20051220214528/http://www.pangya.com/new2/mobile/mobile_confirm.asp
According to the archived pages on archive.org, the game was launched on 30th August 2005. In August 2006, when season 3 was released, the pang transfer feature was removed. It was a Korea-only game, the global Albatross18 server never released it.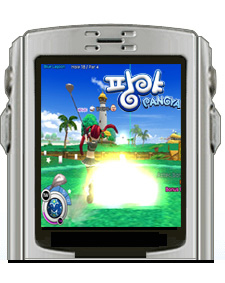 This looks like a promotional mock-up image of the game, phones at the time didn't have that good graphics yet…
I have been unable to find any other screenshot, I'll post them if I'll find any. It would be interesting to find a video or even the archive of the game, no idea if there are emulators for mobile games of that era though.
Source on hio-pangya.net: Albatross18/Pangya Fan Forum :: View topic - Moblie Pangya (2D)
Varthall